 A 28-Day Challenge to Recruit More Volunteers
Volunteer Boost will teach you a system for volunteer recruiting that works
Step #1
Join the Volunteer Boost Challenge
Step #2
Carve Out Time to Work On It
How Volunteer Boost will help you establish a system and recruit volunteers
30+ Training Videos
You'll get 4-8 short videos each week (Mon-Thu) teaching you how to boost volunteer recruitment (plus bonus videos)
Notes & Documents
A workbook with notes as well as key volunteer recruiting documents are included to help you implement your plan
Exclusive Community
You'll instantly be added to a private community with other challenge members where we can learn from one another
Volunteer Boost Q&A
Watch Q&A sessions with Ministry Boost staff to help you as you work on the challenge each and every week. 
A System You Can Repeat
The 28-day challenge will help you establish an ongoing system for recruiting volunteers that you can repeat every week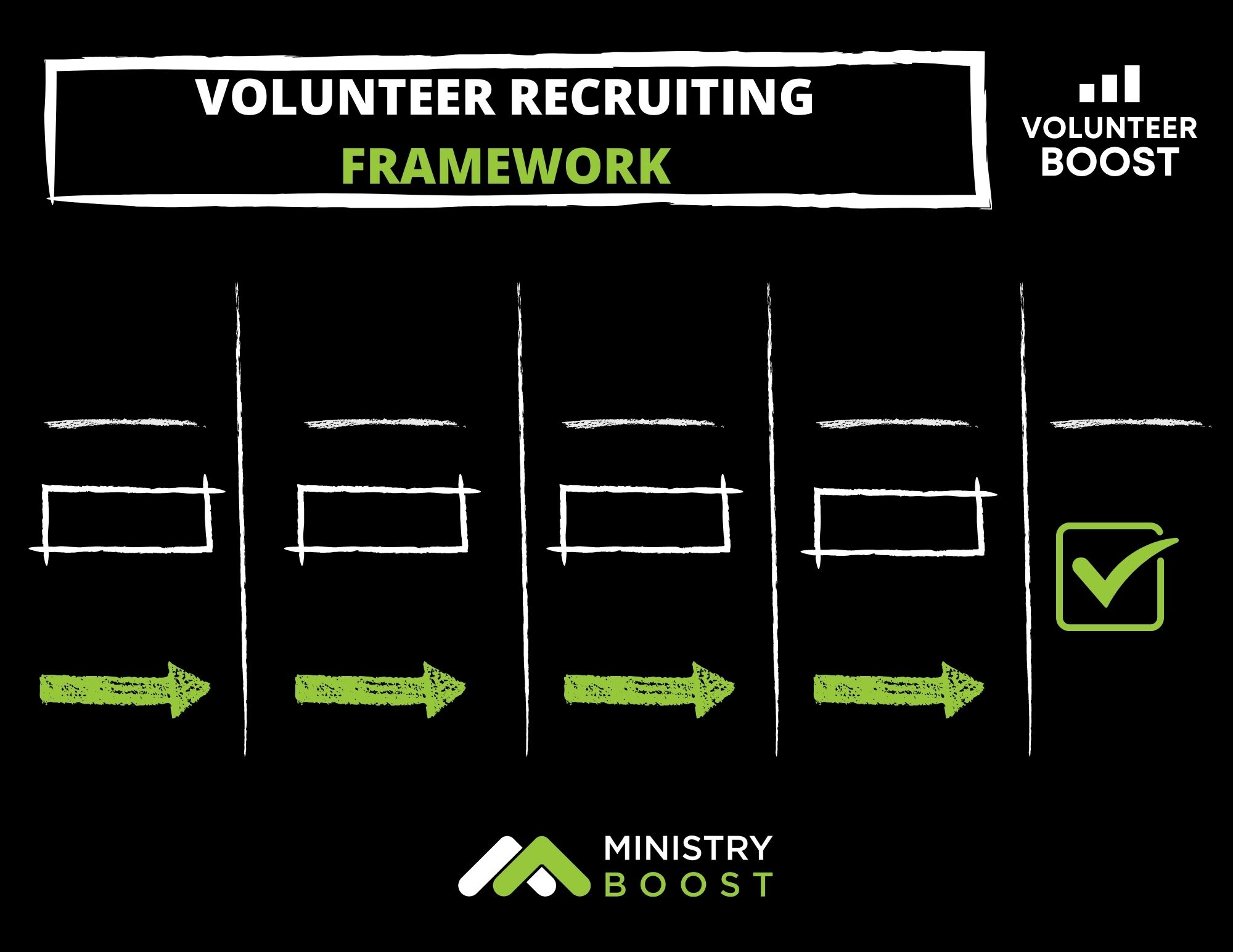 Will you commit the time?
Put in the Time
Before joining the challenge, make sure you can commit the time to be successful.
What other leaders are saying
Be passionate and constant with recruitment! I should always be asking and have a clear plan for following up, offering orientations, and onboarding. You will love it! This challenge is practical and doable. But, above all, it works!!!!
"Completely changed my thought process & has now given us a tangible way to effectively recruit. Do it! Don't try to re-invent the wheel."
I now understand the importance of clarity and processes - setting and tracking goals. Having support in setting up those systems is priceless! I appreciate the forms and samples! I loved the workbook!"
The Volunteer Boost Schedule
Week 1 - Start the Recruiting Engine
In the first week, you'll start the recruiting engine by accomplishing the following:
Setting your recruiting goals
Establishing your recruiting framework
Blocking time on your calendar
Building volunteer prospect lists
Engaging current volunteers
Contacting prospects using templates
Empowering volunteers to recruit
Planning volunteer meeting
Meeting with volunteers and prospects
Week 2 - Help People Take Next Steps
In the second week, you'll help people take next steps toward serving by:
Providing an option that's easy for prospects to say yes to
Defining your onboarding process to retain 90%+ new volunteers
Following up with prospects who have not engaged
Clarifying a vision that will inspire people to serve
Week 3 - Leverage Volunteer Recruiting On-Ramps
In the third week, you'll leverage volunteer recruiting on-ramps by:
Finishing your onboarding plan
Helping people take next steps from your first on-ramp
Catch people who haven't engaged using the #1 method
Set up a new recruiting on-ramp with the largest potential pool
Create an apprenticeship plan to help new volunteers stick
Week 4 - Empower Others to Recruit With You
In the fourth week, you'll empower others to recruit for you by:
Challenging volunteers to finish strong in recruitment
Tapping into a segment of already-engaged prospects
Empowering volunteers to lead like staff
Provide an easy one-off option for recruiting prospects
Set a recruiting rhythm that will continuously reap results
Days of Focused Recruiting Help
How much does it cost?
Volunteer Boost costs $97 for your ENTIRE TEAM. Whether you are flying solo or you have 5 staff taking the challenge with you (or more), it's just $97/church.
Volunteer Boost Access
Boost your volunteer recruiting
Includes access for your entire church staff to the Volunteer Boost Challenge:

30+ Training Videos

The Volunteer Recruiting Framework

The Volunteer Boost Workbook

Template Recruiting Calendar

20+ Communication Scripts

100+ Volunteer Documents

Private Community
Is it really 8 hours/week?
That's an estimate, but it's probably close. You could always do more or less, and the early weeks will have more work than later weeks, but 8 hours is a good estimate to do it well. Just think, it's 32 hours that will pay dividends for years to come.
Is it all over after the 28 days?
The official challenge is over, but the recruiting work doesn't stop. You'll invest a good amount of time and energy during the 4 weeks to build the systems and do the work of recruiting. After it's over, you should continue the work of recruiting with the benefit of having to give far less time (maybe 2-3 hours/week).
Do Ministry Boost Members get access for free?
Yes! In addition, as a member, you already have access to tons of other courses and content that will help you carry out your recruiting plan. 
Are the videos on-demand or live?
The videos are pre-recorded and available on-demand.
Do I lose access after the 28 days?
Nope. You'll have access to the challenge content forever. 
Can I get help as I implement it?
Yes! There will be live Q&A calls weekly plus a private community where you can get help every day. In addition, join the Ministry Boost Facebook Group here for further support. 
Do I get to see everything at once or day by day?
All of the content is available right away. The emails will start on Monday and go for 28 Days. 
Will Ministry Boost ever do this again?
Yes, our plan is to offer the Volunteer Boost challenge multiple times a year. Once you join, you're in for life and you'll be able to do the challenge again in the future if you wish.
However, don't let this stop you from joining now. There's never a great time to recruit, so why not make it a priority now and go after it?