WE HELP CHURCH LEADERS RECRUIT
MORE VOLUNTEERS
AND BUILD HEALTHY FAMILY MINISTRIES
We'll help you finally solve your volunteer recruiting problem
How Ministry Boost Can Help
Ministry Boost helps leaders of Children's Ministry, Youth Ministry, and NextGen/Family Ministry.
On-Demand Courses
Access 25+ on-demand ministry Courses to grow your knowledge and systems
Resource Bundles
Use Resource Bundles to jump-start development as you build something better
Network of Leaders
Get connected with a Network of Leaders for ideas and support
Leading and growing a healthy ministry is hard for a number of reasons... 
We don't have enough time each week
Ministry never is never finished or completed
We may not be connected with leaders outside our church
We may not have been trained for the actual job
There aren't enough volunteers to free us up to lead
Systems aren't in place and there isn't time to create them
We can feel overwhelmed and frustrated, but it doesn't have to stay that way
As NextGen/Family pastors, we understand what it's like to feel stuck as we try to make progress on our own, which is why our goal is to help 100,000 leaders recruit enough volunteers and build healthy ministries
Church Leaders helped So Far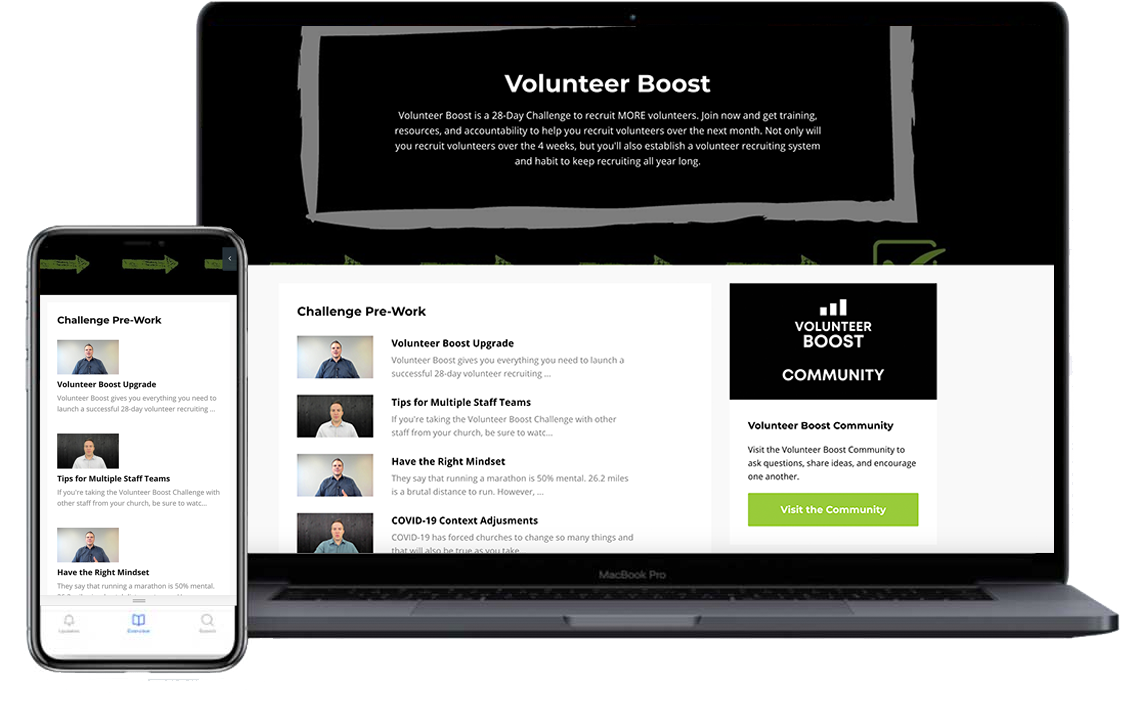 On Desktop & Mobile (App)
Engage with Ministry Boost content on your computer, tablet, or even on your phone with the app. Just download the Kajabi app and login to your account.
Your Ministry Growth Plan
How Ministry Boost Can Help You
At Ministry Boost, we know that you want to be an effective leader and you want to grow your ministry. The problem is there is not enough time each week, which makes you feel overwhelmed and frustrated. 
We believe families need the ministry you are leading. As pastors, we understand what it's like to feel stuck as we try to make progress on our own, which is why we've helped over 6,000 leaders develop their ministry in less time without starting from scratch. 
Here's how we can help you: 
Become a Ministry Boost member

Choose a course or resource

Apply it to your ministry
So, become a member now. And, in the meantime, check out the Free Webinar Archive. So you can stop being frustrated each week feeling like you're doing ministry more than leading ministry. Instead, you can grow the healthy ministry you envision. 
FAST FORWARD GROWTH IN YOUR MINISTRY
Ministry Boost provides training, coaching, and consulting for leaders in:
 
Children's Ministry
Youth Ministry
Family Ministry
NextGen